News Stories from Fiddlers ReStrung

Read the entire news story by clicking on the"Read More" link at the bottom of each introductory paragraph.
Monday, 27 June 2011 00:00
Fiddlers ReStrung to Tour East Coast on "Colony Coast Tour" June 26 – July 6
Saline, June 20, 2011. Saline's Fiddlers ReStrung will be "getting on the bus" with all their gear, musical instruments and personal effects to take their high-energy entertainment on their annual summer tour Sunday, June 26. This year's tour is booked as the "Colony Cost Tour" and will take the group to the historic roots of the U.S. republic in Philadelphia, New York City, Connecticut and Boston. Before returning home on July 6, the group will make a stop in Pittsburgh for a tour of Carnegie Mellon University and a noon performance on campus there.
Highlights of this year's tour include a rehearsal audit with the Boston Pops Orchestra on July 3 as the symphony prepares for its annual July Fourth concert in the city called "The Cradle of Liberty." Fiddlers ReStrung members will also attend a workshop with renowned Irish fiddler, Sheila Falls, while in Boston that day. Falls is active as both a performer and recording artist and a member of the fiddle-based band called "Childsplay." She is also a member of "Classical Tangent"; a Boston Symphony based group which performs in a variety of World Music genres
The tour includes performances in a variety of venues in Philadelphia, Madison, CT, Pittsburgh and West Mifflin, PA, among other locations along the tour. Downtime activities include a Philadelphia Tour Day, New York City Tour Day, Boston Tour Day, beach park and amusement park fun and fireworks in State College, PA on July 4th.
Fans of Fiddlers ReStrung can follow the tour by visiting the group's Facebook page: https://www.facebook.com/ReStrung.
Fiddlers ReStrung is a 21-piece string ensemble featured at over 80 performances annually consisting of students at Saline High School, all of whom share in producing a unique ensemble truly their own. The organization is officially sponsored and supported by Saline Area Schools and Saline Community Education. Students are chosen based not only on musical talent, but personal maturity as well as balancing a demanding performance schedule while maintaining high standards in other school activities, sports, and academics.
For additional information on Fiddlers ReStrung, please contact Rebecca Groeb-Driskill Cultural Arts Specialist, Saline Area Schools at (734) 429-8020 or visit the website www.fiddlersrestrung.com.

Thursday, 03 March 2011 10:32
Jeremy Kittel to Perform With Fiddlers ReStrung
at Saline Middle School on Saturday, May 7

Saline, February 16, 2011. Fiddlers ReStrung is pleased to announce that Saline native and local favorite Jeremy Kittel and his Jeremy Kittel Band will appear with the Saline group at their Spring Hometown Concert at Saline Middle School on Saturday, May 7, 2011 at 7:00 pm.

The concert is certain to be a much in demand event and represents a homecoming for Jeremy after a grueling schedule that has included the release of a new CD. He has performed multiple times with Fiddlers ReStrung in the past, and of course is an alumnus of the Saline Area Schools program precursor group, the Fiddlers Philharmonic.
Read more...
Thursday, 03 March 2011 10:24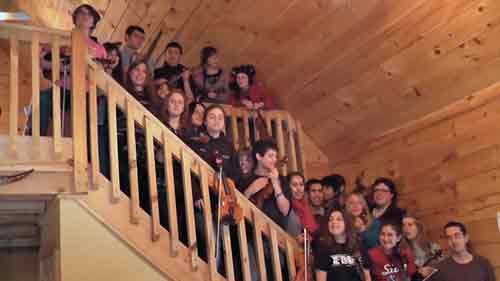 Fiddlers ReStrung Recharge During Winter Camp
in North Woods of Michigan
2011 Fiddlers ReStrung Winter Camp
Double JJ Ranch, New Era, Michigan
February 18 - 20

New Era, Michigan – Taking advantage of the Presidents Day weekend break from school over the weekend of February 18-20, members of Fiddlers ReStrung participated in their annual winter camp at the Double JJ Ranch in New Era, Michigan. Departing bright and early from Saline High School on Friday morning, the group and their parent chaperones caravanned across the Lower Peninsula on their trek to the great North Woods for 3 days of relaxation, comradery and fun, with a dose of rehearsing and new music learning thrown in for good measure.
Read more...
Thursday, 03 March 2011 10:13


Fiddlers ReStrung Entertain Crowds at Big Rapids
Michigan's Festival of the Arts
Big Rapids, Michigan, Feb. 5, 2011 – Maybe it could be called the dog days of February or Arts Go To the Dogs, but by whatever description applied, Fiddlers ReStrung enjoyed a busy day in bringing their music to West Michigan. Combining a scheduled appearance at Big Rapids' Festival of the Arts with matinee performances at the halftime of Ferris State University's men's and women's basketball games, the group scored a trifecta in their three shows.


Read more...
Sunday, 30 January 2011 21:00
View Our Talented Group of 2011!

Violin

Sabine Bickford


Srimona Bandyopadhyay

Joel Bohnen

Cameron Hibbard

Mehul Kulkarni

Trevor Morrison

Christina Radak

Anand Saripalli

Anjali Saripalli

Alina Soltis

Katherine Vaujin

Sarah Vaujin

Allison Westfall




Viola

Sam Anguilm

Jennie Baker

Kenzie Morrison

Kera Yang

Natalie Zimmerman




Cello

Nirvan Bhattacharyya

Adriane Rasmussen

Becca Wright

Rhythm

Sean Chene

Marielle Driskell

Lee Luckhardt

Congratulations and a warm welcome to the following students! Srimona Bandyopadhyay, Katherine Vaujin, Kera Yang, and Nirvan Bhattacharyya.
<< Start < Prev 1 2 3 4 5

6

7 8 9 10 Next > End >>


Page 6 of 11