News Stories from Fiddlers ReStrung

Read the entire news story by clicking on the"Read More" link at the bottom of each introductory paragraph.
Sunday, 16 January 2011 20:41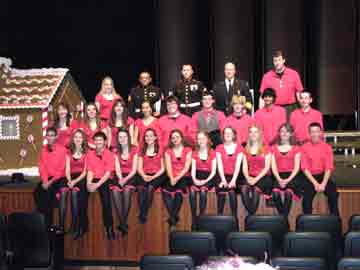 Saline Area Fire Department and Fiddlers ReStrung
Conclude Successful Toys for Tots Campaign


Saline, January 5, 2011 – Chief Craig Hoeft of the Saline Area Fire Department and members of Fiddlers ReStrung played Santa Claus to Saline Area Social Services over the holiday break by delivering toys collected during the annual Toys for Tots campaign. This year's campaign collected more than 1,500 new toys for deserving children who may have not been able to enjoy receiving toys for Christmas without the generosity of the Saline community and the efforts of the Fire Department, Fiddlers ReStrung and the U.S. Marine Corps' Toys for Tots program.

Read more...
Tuesday, 09 November 2010 12:45


Fiddlers ReStrung's Holiday Hometown in Support of Toys for Tots
Sunday December 5, 2010 2 pm
For the past three years, Fiddlers ReStrung has provided a great kickoff to the Saline Fire Department's Toys for Tot's campaign drive. After collecting 150 toys in 2007 and 1000 in 2008, ReStrung helped the Saline Fire Department collect over 1300 toys in 2009. In 2010, expectations are high for this year's Fiddlers ReStrung's Holiday Hometown Concert in Support of Toys for Tots. In another year when the local economy continues to struggle and more families need help, the ability to make a difference with a toy makes this concert all the more powerful. Fiddlers ReStrung, a group that has dedicated many performances to community service during these past few years, this concert provides a most fitting way to ring in the holiday season.
This year's Holiday Hometown Concert is scheduled for Sunday, December 5, 2010 at 2:00 pm in the Ellen Ewing Performing Arts Center of Saline High School, 1300 Campus Parkway, Saline. Tickets are $10 for adults, and only $5 for students and seniors. Reserved tickets are limited. To purchase an advance ticket, call (734) 944-2283. After Nov. 10th, tickets can also be purchased in-person at Saline Community Education Office, 7265 Saline Ann Arbor Road, Saline, MI 48176. The concert takes place on the Sunday after Saline's traditional annual holiday parade along Michigan Avenue.
Read more...
Saturday, 02 October 2010 12:05
Fiddlers ReStrung Welcomes New Artistic Director
Allison Cregg is the newly appointed Aritistic Director of the Fiddlers ReStrung. If you press her, she will modestly tell you that she began fiddling at age 7 and in 1996 she won her age division of the Minnesota Old Time Fiddle Championship. This enthusiastic and talented director, looks young enough to be one of the Fiddlers ReStrung members herself, but don't let that fool you! Allison is a seasoned, talented violinist with the experience and credentials that will knock your cowboy hats off.

She recently earned her Masters in Violin Performance at the University of Michigan. As a student there, she studied with Aaron Berofsky and performed with the University Symphony Orchestra, where she served as a Principle Violin. Previously, she received her Bachelors in Violin Performance from the Shepherd School of Music at Rice University under the tutelage of Kenneth Goldsmith. She has been a fellowship performer at festivals in Texas, North Carolina, and Graz, Austria. Allison has played with many orchestras in the area including the Battle Creek, Midland, and Dearborn Symphonies among others. She is currently also a member of the Ann Arbor Symphony Orchestra.

Read more...
Thursday, 10 June 2010 07:57
Fiddlers ReStrung Embarks on Waterbound Summer Tour of the Great Lakes
Every summer, Fiddlers ReStrung, a 15-piece string ensemble, embarks on a summer tour that brings their unique blend of American Bluegrass, Celtic fiddle, popular folk, Appalachian Step-dancing, and Progressive Acoustic music to communities and concert halls across the country. This year's tour is called Waterbound, honoring not only a song on their upcoming CD, but also acknowledging their visit to each of the Great Lakes. From Sunday June 27th through Friday July 9th, ReStrung will perform at 10 venues in Ontario, Pennsylvania, Ohio, and Michigan including Goderich (Ontario), the Spring Sunset Music Series at Presque Isle, Ludington (MI) Area Center for the Arts, and the McConnell Arts Center (Worthington, OH). Additionally, ReStrung will also be attending and performing at Christian Howes' Creative Strings Workshop in suburban Columbus, Ohio, where they will be working with some of the finest artists working on improvisational strings anywhere.
Read more...
Friday, 19 March 2010 09:47
Fiddlers ReStrung Hometown Concert To Feature Darol Anger's Republic of Strings

Fiddlers ReStrung will present their Spring Concert featuring Darol Anger's Republic of Strings as guest artist on Saturday April 24, 2010 at Saline High School. Darol Anger leads this quartet of brilliant string players who are among the most sought out musicians in the progressive strings movement. Exceptional among modern fiddlers for his versatility and depth, Darol Anger has helped drive the evolution of the contemporary string band through his involvement with numerous cutting-edge ensembles such as his Republic Of Strings, the Turtle Island String Quartet, the David Grisman Quintet, Montreux, the Duo and other ensembles.

Read more...
<< Start < Prev 1 2 3 4 5 6

7

8 9 10 Next > End >>


Page 7 of 11