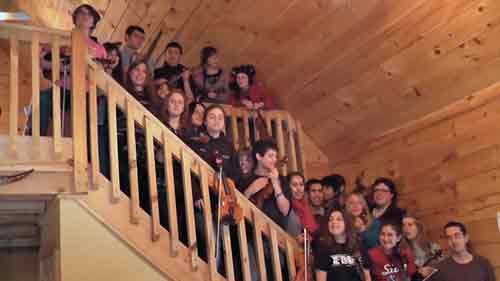 Fiddlers ReStrung Recharge During Winter Camp
in North Woods of Michigan
2011 Fiddlers ReStrung Winter Camp
Double JJ Ranch, New Era, Michigan
February 18 - 20

New Era, Michigan – Taking advantage of the Presidents Day weekend break from school over the weekend of February 18-20, members of Fiddlers ReStrung participated in their annual winter camp at the Double JJ Ranch in New Era, Michigan. Departing bright and early from Saline High School on Friday morning, the group and their parent chaperones caravanned across the Lower Peninsula on their trek to the great North Woods for 3 days of relaxation, comradery and fun, with a dose of rehearsing and new music learning thrown in for good measure.
After settling in at some of the beautiful log homes of Double JJ Ranch, dinner was prepared for the group by Jennifer Wright, Cindy Baker and Melissa Zimmerman. After-dinner entertainment was a 30-minute concert for the rest of the group performed by the Freshmen Fiddlers, accompanied by senior Sean Chene on bass (a.k.a. The Freshman Ninjas and Sean). A standing ovation for the performance got the group on their feet for the next scheduled event of the evening. Everyone piled back into the vehicles to head out to the slopes to try out the tubing hills. In contra point to the warmth and coziness of the musical interlude in the cabins, tubing proved cold and windy but nonetheless fun.

Saturday morning dawned to an exceptional breakfast cooked by Jim Chene and bassist Sean, a rousing start to what became a musically very productive day. Members worked on several exciting new songs to be premiered later this spring at the Spring Hometown Concert in Saline (more about that later) and rehearsed for their performance that evening in the Frontier Lobby at Double JJ. The concert traditionally serves as a "thank you for having us" to the staff and guests at the resort and was received by an enthusiastic, appreciative audience.

Saturday night continued back in the cabins with karaoke and snacks. Doug Smith and Jo?l Bohnen (the "Dutchman") knocked everyone dead with a stirring rendition of the Beatles "A Little Help from My Friends". A Justin Bieber look-alike and what appeared to be the Backstreet Boys made surprise appearances, and even ole' blue eyes himself, Frank Sinatra, made a stop to perform. Afterwards everyone sang "The Time of My Life" and topped it off with a big group hug.

Sunday's schedule was cut short because of the threat of an impending winter storm. A collective decision to evacuate ahead of the bad weather led the caravan of vehicles to opt for departure as early as possible that day. A hearty breakfast was prepared by Becca and Jennifer Wright, while everybody else packed up. Breakfast was followed by a short rehearsal before the group piled into the vehicles for the long ride home.

They ALMOST beat the storm.

Video highlights of the winter camp and performance at the Double JJ Ranch can be found on the following links:

Camp activities (YouTube)

Double JJ Ranch Gig (YouTube)

Fiddlers ReStrung has a busy spring schedule ahead before the busy season of its summer performances and summer tour kicks in. The next notable event on the schedule over the next 60 days includes the group's Rummage and Bake Sale fundraiser March 26, 2011 from 8:00 am – 5:00 pm at Liberty School in Saline. Information on the event can be found at www.fiddlersrestrung.com.

Fiddlers ReStrung will perform its Spring Hometown Concert later this spring at Saline Middle School. This concert will feature Saline native and local favorite Jeremy Kittel and his Jeremy Kittel Band appearing with the group on Saturday, May 7, 2011 at 7:00 pm. Tickets and reservations for this event can be purchased by phone at (734) 224-8725 or at Saline Community Education offices at Liberty School in Saline.

Fiddlers ReStrung is a 21-piece string ensemble featured at over 80 performances annually consisting of students at Saline High School, all of whom share in producing a unique ensemble truly their own. The organization is officially sponsored and supported by Saline Area Schools and Saline Community Education. Students are chosen based not only on musical talent, but personal maturity as well balancing a demanding performance schedule while maintaining high standards in other school activities, sports, and academics.

For more information about upcoming events or Fiddlers ReStrung, please contact Rebecca Groeb-Driskill, Cultural Arts Specialist, Saline Area Schools at (734) 429-8000 ext. 2338.